Team
Team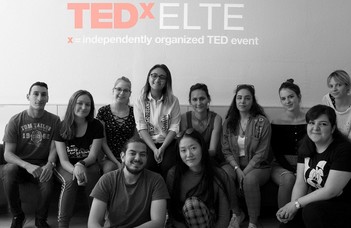 In 2018, a handful of ELTE students decided to dream big and apply for TEDx licence to create Hungary's leading university's first TEDx conference.
Get to know them by clicking on their names below.
The TEDx-event couldn't be realized without the following mentors, so pecial thanks to all the help and support we receive from Gábor, Ákos, Zsuzska, and Viki from the Communications, Marketing, and Recruitment Office, as well as Gábor from the Faculty of Social Sciences' Dean's Office.
Youstina Azer—Licensee, Main Organiser, Sponsorship Manager
Réka Heszterényi—Co-organiser, Curator, Public Relations Manager
Eszter Nagy—Social Media Manager, Head of Social Media Team, Website Manager
Ibrahim Alhendawi—Video Lead
Éva Papp—Event Manager
Anja Gavrić—Social Media Manager
Farnaz Ghandi—Graphic designer
Sziszi Xi Li—Photographer, Videographer, Website Manager
Luca Anna Demény—Social Media Manager
Majd Hammoudeh—Curator
Dasha Beschastnova—Photographer
Wasim Dimashky—Head of Design
Soufiane Boulassel—Event Manager